A history through pictures

This site is dedicated to the history of Rhostyllen in both old photographs and narrative. There is also a large section devoted to the neighbouring village of Bersham.
Background
My Great Grandparents moved here in the early 1900's settling in Church and Trinity Street respectively. They came here to work at Bersham Colliery ("Hewer") and on the Great Western Railway ("Platelayer Foreman").
I was born in Rhostyllen and have lived here for most of my life so I have an affinity for the place. The site was created as I felt that the village was under represented when it came to photographs and narrative as to its origins and history.
Whilst researching for my other website esclushambc.co.uk (Esclusham Bowling Club) I came across old photographs and information on the surrounding area and kept those to one side.
Once the bowling site was complete I set about asking around for old photographs of Rhostyllen and the surrounding area from the more "mature" occupants of the village. This led me to meet and chat with many interesting people who all had a tale to tell and a photograph to share with me.
There is now a Facebook page for you to leave your comments and feedback about the website.
The site as you see it is not yet complete and is still a work in progress! I have much to add to its contents.
If any one has any comments about this website or other old photographs which they would like displaying then please do not hesitate to contact me. Please "click" the "Contact Us" button above for details. All original photographs will be returned to their owners.
This site is not for profit but any donations however small would be welcome to help off set the costs of running the site. Please "click" the yellow "Donate" button above.
Acknowledgements
Thanks go to the following people: Brenda Davies, Fay Evans, Mavis Evans, Joan Roberts (Mervyn's photographs), Christine Basey, Geraint Lloyd, Eryl Jones, Mair Jones, Pam Jones, Nicola Badwick, Alan Jenkins, Den Jones, Nigel Jones, Alice Davies (my mother! formerly Haynes), John Williams (Vicarage Hill), Len Hughes, John Povah, Jane Hann, John Williams (Born old Police Station) Chris Williams, Arthur Simpkins, Ken Pritchard, June Phillips (formerly Evans), Ivor Roberts, Ann and John Deary, J.W.Lloyd, Glyn Ellis, Vic Jones, Tony Jones, Glenys Albone nee Williams, Peter H Edwards, Rebecca Angus, Jennifer Forrester, Billy Bloor, Vic & Rees Thomas Ian Garland, Margaret Lloyd, Phil Roberts, Gordon Williams, Shelagh Hunter, Kathryn Nobbs, Max Wiecko, Tony Spendel, Janet Robinson, Ian & Mark Pritchard, Michael Jones, Lynn Edwards, Graham Blackmore, Doreen Ryder, Dorothy Kelly (formerly Wakelin), Sarah Kelly, Catherine & Alan Ellis, Jane Summers, Graham Lloyd, Alan Stevenson, Ken Shone, Glyn Cooper, Pat Pemberton, Arthur (AP) Jones, Alan Gwyn Davies, Kev 'German' Jones, Peter Prydderch, Anita Butler, Alison Jones, Arnold Jones, Nicola Stretch, Neil Smith, Annette McCarthy, John Gallanders, Terry Thompson, Peter Archer, Eileen Williams, Ray Cross, Joan & Jim Clays, Pat Williams, WCBC and DCC Archives, Esclusham Community Council and Rhostyllen WI. Special thanks also goes to Mike White for designing this site.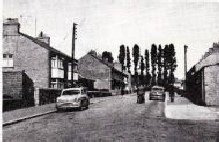 Rhostyllen.info Website Contents Map - Click the links below to find out more.
1 Home - This site is dedicated to the history of Rhostyllen in both old photographs and narrative.
2 History - The earliest reference to Rhostyllen is of a Hugh Davies (Smith) residing at Rhose Tullen Smithy in the 1670's.
 History of Rhostyllen - This section aims to give the reader an overview of the ancient and more recent history of the "Village" through photographs and narrative.
 Memories of Rhostyllen - The aim of this section is to give former and current inhabitants of the "Village" and the surrounding area the opportunity to air their personal accounts of how life once.
3 Photographs - A wide range of photographs and information are contained here.
Bersham Colliery - Bersham (or Glanyrafon) Colliery, was sunk by Mr Barnes of Liverpool in 1867 and before its closure in December 1986 was the last working coal mine in the Denbighshire coalfield. Rhostyllen is what it is because of coal.
Bersham - Although this website is devoted predominantly to the history of Rhostyllen I could not resist a section on the neighbouring village of Bersham!
 Bersham Village - Was originally two villages Pentre dibynau (Hamlet of the Cliffs) and Dol Cuhelyn (Cuhelyn's Meadow) and was one of the cradles of the Industrial Revolution.
 Bersham School - Bersham National School built in 1868 was an attempt to give an education to the poorest of children.
 Bersham Paper Mills - In the early part of the nineteenth century, three paper mills were constructed within a short distance of each other.
 Historic Buildings - This section is devoted to old buildings some long gone and some still standing! Including: Bryn Heulog, Lyn Tro, Rhostyllen Legion (situated where the football field is now), The Eagles Inn (sold in 1877), The Middle Pub (reference to this public house dates back to at least 1759), Cadwgan Hall and many more.
 Street Scenes and Landmarks - This section begins with a horse and cart circa 1890's in High Street and goes on to depict village streets with buildings that no longer exist and the Croes Foel roundabout without a "flyover" and a Starbucks!
 Religious Buildings - This section is dedicated to the many religious groups and buildings that exist and existed in the village.
Village Characters - There were once so many "Village" characters about but now not enough in my humble opinion.
Erddig - Erddig Hall is not in Rhostyllen but who from the "Village" has not walked or played in the fields and park land that surround it at one time or another?
 People - This section contains all the miscellaneous photographs that did not fit into the other sections contained within the website.
 Rhostyllen and Bersham at War - This section aims to honour and remember all the people from Rhostyllen and Bersham who lost their lives fighting in wars.
 Village Councillors - Here you will find photographs and narrative devoted to the various parish and community councillors who have served the "Village" over the years.
 Fete and Carnival - Here you will find a selection of photographs from 1931 onwards of various village fetes and carnivals.

Rhostyllen School - The history of Rhostyllen School together with numerous photographs of past pupils from as far back as the early 1900's.
 History - In the year 1900 infants left Bersham School for the newly opened school in Rhostyllen. This section charts the history of the school from 1900 - 1992.
 Photographs - There are over forty photographs of past pupils in this section.
Shops and Businesses - The "Village" used to have numerous shops and businesses. To view a selection of them check out this section of the website
Sporting Teams - Rhostyllen has produced many a fine sportsman or should I say sports person! Click the links below to find out more.
 General - This section includes photographs of tennis, crown green bowling, snooker, darts and dominoes teams.
 Football - The history of football in the Village from 1879 onwards.
Transport - This section aims to give the reader a flavour of the various forms of transport which were available in the "Village" before the invention of the motor vehicle.
 Buses - In the 1920's the Owens Brothers (Sam and Dick) were the first to introduce a local bus service to the village. Followed swiftly by J.Phillips in 1926.
 Trams - Rhostyllen was formerly served by the line of the Wrexham and District Electric Tramway Company, opened in 1903.
 Trains - Rhostyllen was a minor railway station (opened in 1901) on the Great Western Railway, located on the Rhos Branch line just off the Shrewsbury to Chester Line.
 Maps - In this section you will find maps of the area dating from 1829 to 1967.
 Business Directories - The directories from 1892 onwards will give you a flavour of the various shops and businesses that used to ply their trade in the "Village".
Postcards - This section features a selection of postcards. Some have been chosen because of the subject matter of the photographic side whereas others for what is written on the reverse.
 Miscellaneous - During my research I came across many old documents which I thought may be of interest but were difficult to sort and classify. As such they are included within the miscellaneous section.
5 Contact us - This section provides and email address to contact me if you would like to share any old photographs or information and a series of interesting related links to other websites.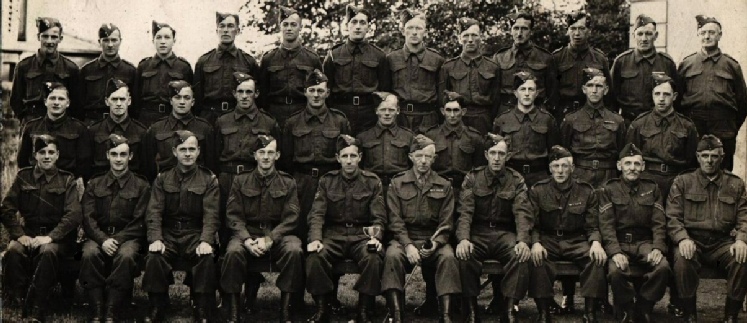 1943 - Rhostyllen & Bersham Home Guarduard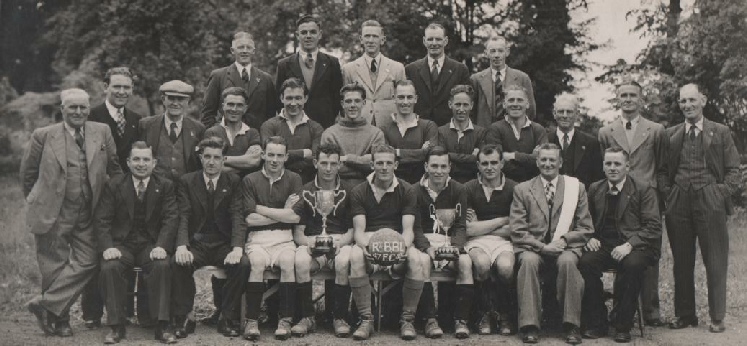 1947/48 - Rhostyllen & Bersham British Legion Football Team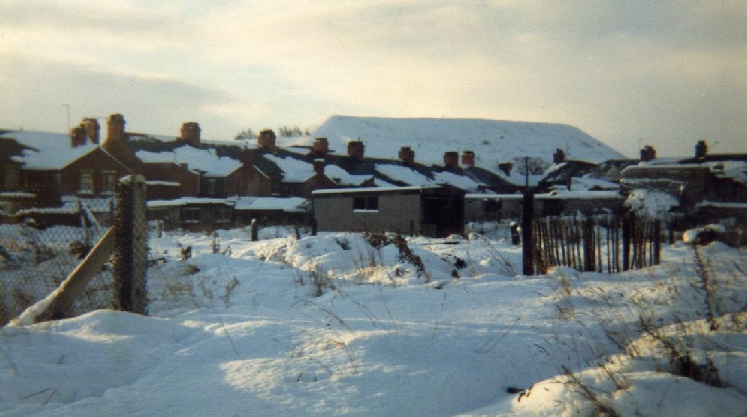 Early 1980's - Spring Road